Social Solutions is gearing up to finish its ETO software update with the 2018.1 release, and it promises to add some long anticipated and exciting new functionality for all ETO licensees!
The 2018.1 release includes two enhancements that will make life much easier and better for just about every ETO organization:

Barcode Check-In

NEW Referrals Dashboard Part
This is our first look at the new functionality, and we'll add more information to this article based on your questions and comments.

Check-in/Barcode Scanning
ETO users have anxiously awaited the day when barcode scanning would come to TouchPoints, and it is arriving on April 27! Treadwell was able to get early access to the near-final version of the new Check-In functionality, and it follows ETO's latest design trends: simple to use, and very useful.
Barcode attendance tracking was an exciting, if little-used Legacy ETO component. It required use of old Point of Service elements, and a downloadable tool that would guide the user through the set-up and scanning process. Some organizations continue to use Legacy barcode scanning because the functionality had not yet made it to TouchPoints.
While the new version of Barcode Check-In does require some very minor set-up, the scanning pages are built right into ETO, and no additional program downloads are required.
How to set up Barcode Check-In
The new Check-In feature is technically an Add-on, but it is a free Add-on!  Administrators must contact their Account Managers and ask to have the feature enabled.
In order to use the Barcode/QR scanning features, you'll need:
A Scanner, which can be either a classic barcode scanner or mobile device.

Basic barcode scanners are available on Amazon.com for as little as $14; wireless versions for around $35. We tested successfully with an 8-year old wired USB scanner.
The Barcode Scanning Font is downloadable here.
Once enabled, a new element type appears in the list when adding elements to a TouchPoint or Collection.

When added to a TouchPoint or Collection, the form itself becomes "Scannable".
Note, you can only add one Check-In element per form.  Once added to a TouchPoint, the "ETO Check-In" option disappears from the list when adding additional elements to that TouchPoint.
How to record barcodes
Once enabled by Social Solutions, the Barcode Feature includes several Standard Barcode Scanning Reports in a new "Barcode Reports" category.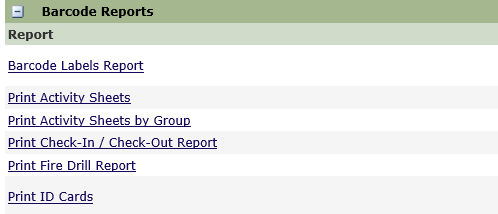 Reports can be printed as either QR or HC39M fonts.  The reports will print a list of barcodes (below) and include an option to print standard Avery Labels.  Although not supported by Social Solutions, it is possible to create custom barcode scanning reports, simply using the "IDAutomationHC39M" font in ETO Results.

How to record TouchPoints with barcodes
This is the easy part.  Once you have a TouchPoint with Check-In element and your list of barcodes, the Record TouchPoint page will display a new option for "Scan Attendance."

Clicking this button will open a new tab for scanning.
Although the formatting will change before the 2018.1 release is finalized, the demo version of the scanning screen is very intuitive and simple.  Simply click in the grey entry field and start scanning.
The first time a participant is scanned, the system records a check-in.  When the participant is scanned again, a check-out is recorded.

The screen is sortable and searchable to make editing and deleting individual records very simple.
Once saved, the record can be edited like any other TouchPoint to add details.
NEW Referrals Dashboard Part
The NEW Referrals functionality has been available for some time, and offers some amazing advantages over its predecessor, including the ability to search by type of service and find all of the Entities/Programs that provide that service type.
Social Solutions has already released a standard NEW Referrals Dashboard Part to make managing and making referrals simpler!  Now, users can make referrals directly from a Participant or Family's dashboard.  All referrals for a Participant or Family will be listed in the Dashboard Part, making updates much simpler.

This is a critical component of making and managing referrals, and the new dashboard part achieves everything that most users have been searching for, including the ability to view, edit, accept or reject referrals.
Other Small Updates
Entity ID has been added to the Entity Batch Upload, improving the ability to update existing Entities by batch upload.
Program ID has been added to the "Demographic/Program Information" Cross-reference element in TouchPoints. Most of the time, a Program Name cross-reference is sufficient for doing advanced Conditional Rules, or improving reporting.  But for organizations with many sites, and with programs named the same across sites, this allows for more granular conditional rules on a site-by-site basis.
TouchPoint Response Cross-references will now respect the Sort-order established by the administrator. This makes Response Cross-references much more functional.
The full Enhancements Change-log can be found in the Knowledge Base.
Need help with your Apricot or ETO software?
Focus on what you do best and leave the data to us.
Treadwell is Bonterra's (previously Social Solutions) only certified implementation partner for both Apricot and ETO software. Schedule a free consultation to learn how Treadwell can increase your impact and help you reach your goals.